1.THAT EPIC DANCING SCENE WITH BABY GROOT AT THE BEGINNING OF GUARDIANS 2 TOOK TWO YEARS TO MAKE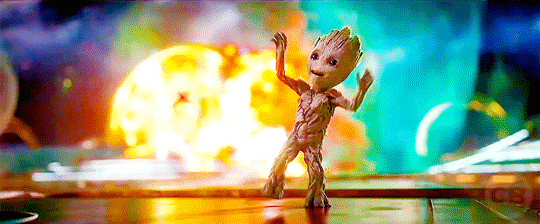 Two freaking years!? Holy moly. That's a lot of time to devote to a scene featuring an infantilized sequoia busting out some moves. But hey, having seen the final result at the beginning of Guardians of the Galaxy 2, we have to say that it was 500% worth it. Like, we're pretty sure that's the best scene in the movie, if not the best scene in any movie. As director James Gunn told the Toronto Sun, "It took over two years of planning and acting out… I first came up with the shot when I was writing the treatment for the film. I had my associate producer Simon Hatt film me as Groot with an iPhone so we could stitch it together so that it would work perfectly." So, an iPhone video exists in which James Gunn does the Baby Groot dance? Instead of another Iron Fist season, could we see that?
2. THE RICHEST SUPERHERO IS ACTUALLY BLACK PANTHER, NOT TONY STARK
Marvel Comics introduced the Black Panther for the first time in their 52nd edition of the Fantastic Four back in 1966. His arrival predates other Marvel's superheroes like Gabe Jones and Falcon and even Dell Comics' Lobo, making Black Panther the first black hero in the American comic history.